Oct 09, 2020
Why Crypto shrugs off BitMEX's Disintegration
The case for mass adoption remains intact as regulators target the elephant in the room
Business as usual
Judging by the BitMEX Blog, it appears that the Seychelles-registered exchange wants observers to think current circumstances are just a little bit less than normal. A breezy post titled 'Leadership Changes at 100x Group', referring to the holding company of BitMEX operator HDR Global Trading Limited, noted that founders Arthur Hayes (now ex-CEO), Sam Reed and Ben Delo have "stepped back" from executive management responsibilities. Announcing Vivien Khoo, Chief Operating Officer since March 2019, as interim CEO, the post goes on to quote 100x Chairman David Wong expounding on how the management changes will enable the firm to focus on its "core business of offering superior trading opportunities…whilst maintaining the highest standards of corporate governance." He then concluded that things were "business as usual".
BTC exits BitMEX
Meanwhile, data provider Coinmetrics reported that the total Bitcoin held on BitMEX addresses dropped from 192,986 BTC on 30th September to 135,619 by earlier this week, a decline of almost 30%. The falls were no doubt facilitated by BitMEX's gesture of initiating a second daily regular withdrawal window in recent days, on top of its usual single withdrawal window. Again, the move looks like an effort by the exchange to demonstrate a low level of concern about its current travails as well as a constructive customer-first attitude to clients.
Friday brought news that Reed, formerly Chief Technology Officer, had been released on a $5m appearance bond following his 1st October arrest in Massachusetts.
To date, he's the only senior executive of the companies associated with BitMEX to have been arrested. In fact, Reed, co-founders, Hayes and Ben Delo, plus Head of Business Development Greg Dwyer, were all charged with Bank Secrecy Act violations. Apart from Reed though, the other execs remain at large. They are widely thought to have remained outside of the U.S.
The case
CFTC charges
Arthur Hayes, Ben Delo, Samuel Reed, HDR Global Trading Limited, 100x Holding Limited, ABS Global Trading Limited, Shine Effort Inc. Limited, HDR Global Services (Bermuda) Limited (BitMEX) charged as follows:
"Operating a facility for the trading or processing of swaps without having CFTC approval as a designated contract market or swap execution facility"
"Operating as a futures commission merchant by soliciting orders for and accepting bitcoin to margin digital asset derivatives transactions, and by acting as a counterparty to leveraged retail commodity transactions"
"Failing to implement know-your-customer procedures, a customer information program, and anti-money laundering procedures"
U.S. Department of Justice criminal charges
Hayes, Delo, Reed, Dwyer charged with violating the Bank Secrecy Act
Hearing dates have yet to be announced. BitMEX said it would contest the charges "vigorously".
Under-reaction
Predictably, initial reaction to the charges in the cryptocurrency industry and particularly markets, was less sanguine than BitMEX's official stance. The screen grab below was taken in the London time zone, indicating that the regulator went public with charges at around 1600 UTC, or just after midday in Washington, DC, where the CFTC is based.
ENFORCEMENT NEWS: CFTC Charges BitMEX Owners with Illegally Operating a Cryptocurrency Derivatives Trading Platform and Anti-Money Laundering Violations https://t.co/9olvVzSGpz

— CFTC (@CFTC) October 1, 2020
Note that the chief asset traded and deposited as collateral at BitMEX is Bitcoin. Beginning with price, the market showed an unequivocal response to the CFTC press release. The CME CF Bitcoin Real Time Index dipped from just under $10,700 before the news to a low a little above $10,450 within the hour.
CME CF Bitcoin Real Time Index – 01-10-2020 16.00 UTC – 22.00 UTC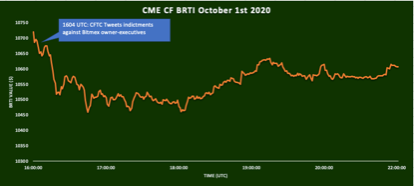 Source: CF Benchmarks
This move wasn't just another dip in the Bitcoin price- the volume traded on the Bitcoin-USD markets of the five constiuent exhcanges (Bitstamp, Coinbase, Gemini, itBit and Kraken) from which the CME CF BRTI draws its input data was over 5 times higher than the average recorded by them in that hour over the previous 90 days (8711.35 BTC vs 1544.56 BTC). The below chart illustrates the volume spike versus the previous 90 day average over that hour and how quickly the market reverted to its prevailing volume trends.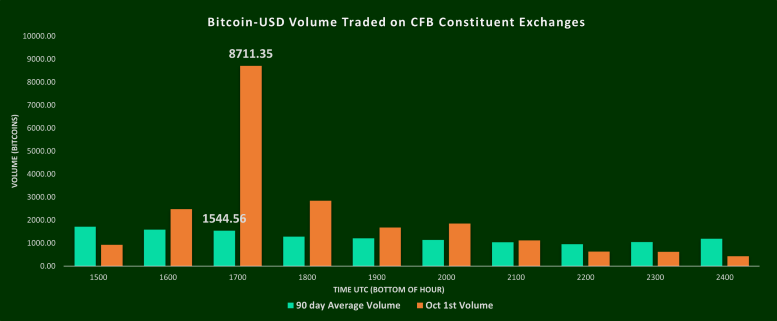 This price action was mirrored by the broader crypto market. The CF Ultra Cap 5 - the officially authorised benchmark for the broader crypto market- backs that view, the chart below shows its performance over the same time frame.
CF Ultra Cap 5 Index – 01-10-2020 16.00 UTC – 22.00 UTC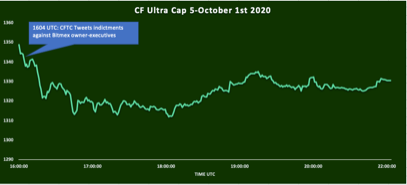 Source: CF Benchmarks
COVID vs. Crypto
Even so, both charts show that the dominant crypto and the other four largest digital assets by market capitalisation that constitute the Ultra Cap 5 all began to recover soon after their initial slides. Impetus for a rebound received some corroboration by its evident resilience despite news emerging a few hours after the BitMEX reports that President Donald Trump had tested positive for COVID-19.
Several days later, as this article was about to be published, the crypto asset class continued to show few lasting effects. Bitcoin itself on Friday traded back above the psychological $11,000 price for only the second clear time since its correction off 2020 highs above $12,000 in August that bottomed on the $9,000 handle.
Speaking volumes
The charges obviously have several major implications for the cryptocurrency industry. Even so, the market reaction speaks volumes about the dwindling influence of BitMEX on the Bitcoin market.
Data from skew.com demonstrate visibly narrowing open interest of Bitcoin futures contracts opened on BitMEX between September 2019 to date (see the blue band in the chart below).
Bitcoin futures open interest – 07-09-2020 – 08-10-2020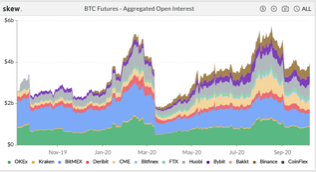 Source: Skew.com
Whilst still a dominant venue as recently as last year, BitMEX's OI is known to have fallen steadily from heights around four years ago that made it, at the time, the largest crypto futures exchange in the world. In early September 2019, $1.3bn in BTC open interest was recorded on BitMEX compared to a total of $2.6bn, or a clean 50% of the market, according to Skew.com. By 30th September 2020, BitMEX's market share had already collapsed to $732m in terms of open interest against a broader market worth $3.7bn.
The relatively low-volatility reaction to dramatic regulatory news may also simply demonstrate the growing maturity of cryptocurrency markets in a year that saw Bitcoin realised volatility decline to some of its lowest levels ever as an actively traded asset.
Set against those implications mentioned earlier, the market's fairly calm reaction was all the more remarkable.
Possible fall-out
Individuals charged could face up to 5 years in prison and fines of up. To $250,000 each
Fines against entities associated with the exchange could be an order of magnitude larger, whilst prosecutors have also indicated an aim to seek reimbursements of client funds held at BitMEX if necessary
Ultimately, the continuation of BitMEX as a trading venue in its current form is a legitimate open question
Of course, charges are against BitMEX and associated individuals only. Allegations aside, it's clear that the group has been a particularly daring operator with respect to laws prosecutors assert that it has violated, and even others. Even so, legislators appear to have become ever more hawkish in recent years. For instance see Telegram, and more recently Unikrn. With dozens of innovative projects in the DeFi space, many of which are widely seen to at least skirt the rules, if not breach them, if prosecutors are becoming increasingly aggressive in their stance towards digital assets, that ought to be a concern for the sector going forward.
The promise… and the stick
Emollient comments accompanying the charges, from CFTC Chairman Heath P. Tarbert, went some way to mediate the idea that legislators do not necessarily have their cudgels out for law-abiding financial innovators.
"Digital assets hold great promise for our derivatives markets and for our economy. For the United States to be a global leader in this space, it is imperative that we root out illegal activity like that alleged in this case. New and innovative financial products can flourish only if there is market integrity. We can't allow bad actors that break the law to gain an advantage over exchanges that are doing the right thing by complying with our rules."
In other words, the future legislative environment for crypto and the broader digital assets space suggests that the divide between centralised and decentralised models may no longer be the most pivotal one. Instead, equal measures of drama and beneficent breakthroughs could be in store for regulated and unregulated providers respectively.