Jun 10, 2023
CF Benchmarks Newsletter - Issue 53
Clarity
This current focus is crystal clear, at least: The SEC's years-long antipathy towards crypto retail trading, based on platforms' lack of registration as securities exchanges, has culminated in charges against the two largest exchange brands by volume, Coinbase and Binance.
The news is fully and multiply elaborated by now, so no need to rehash it here.
Here's what hasn't changed
In fact, from CF Benchmarks' perspective as an FCA regulated Benchmark Administrator, the most salient points to make in response are actually separate from and pre-exist this week's developments considerably.
The crux is our track record of providing indices fit for use within regulated products.
That record is underpinned by compliance—proven by Deloitte audits—with UK Benchmark's Regulation (which is equivalent to EU BMR.)
Again, the BMR stipulations that our indices adhere to have been published for as long as CF Benchmarks has existed.
You can find them in our Benchmark Statement for CME CF Cryptocurrency Pricing Products.
These stipulation include that our indices are:
"Robust and reliable"
"Rigorous and capable of validation…"
"Resilient…" and "can be calculated in the widest set of possible circumstances, without compromising its integrity"
Another critical component ensuring the integrity of our benchmarks:
Our CME CF Constituent Exchange Criteria
Note these are also fully public.
The criteria are centred on broad qualities determining eligibility, and procedures governing the addition, suspension and removal of Constituent Exchanges.
A selection:
"The venue has policies to ensure fair and transparent market conditions at all times and has processes in place to identify and impede illegal, unfair or manipulative trading practices"
"…complies with applicable law and regulation, including, but not limited to capital markets regulations, money transmission regulations, client money custody regulations, know-your-client (KYC) regulations and anti-money laundering (AML) regulations"
"…cooperates with inquiries and investigations of regulators and the Administrator upon request and must execute data sharing agreements with CME Group"
It's worth noting that the Constituent Exchange Criteria have consistently prevented all Binance entities from ever being included as Constituent Exchanges (similarly, the criterial also blocked FTX from ever being a Constituent Exchange).
The Takeaway
Overall then, whilst some measure of uncertainty is inevitable over the potential outcome of the SEC prosecutions announced this week, the integrity, reliability and accuracy of our indices and other pricing measures remains incontrovertible.
Markets: Bitcoin regains its footing
Simplistically, the market's reaction was predictably negative on an initial basis, before segueing quite smoothly to an inconclusive stance. As CF Benchmarks' Lead Research Analyst Gabe Selby notes, bitcoin prices retraced back to a key support area around $25,300 representing "the mid-March breakout level that helped propel Bitcoin past $30K in mid-April".
As shown by the chart of our CME CF Bitcoin Real Time Index (BRTI) below, lows corresponding to the publication of the SEC's complaints against Binance and Coinbase on Monday and Tuesday respectively, correspond quite closely to those indicated as support in March, and the price region that had posed visible resistance in February, before giving way to the upside.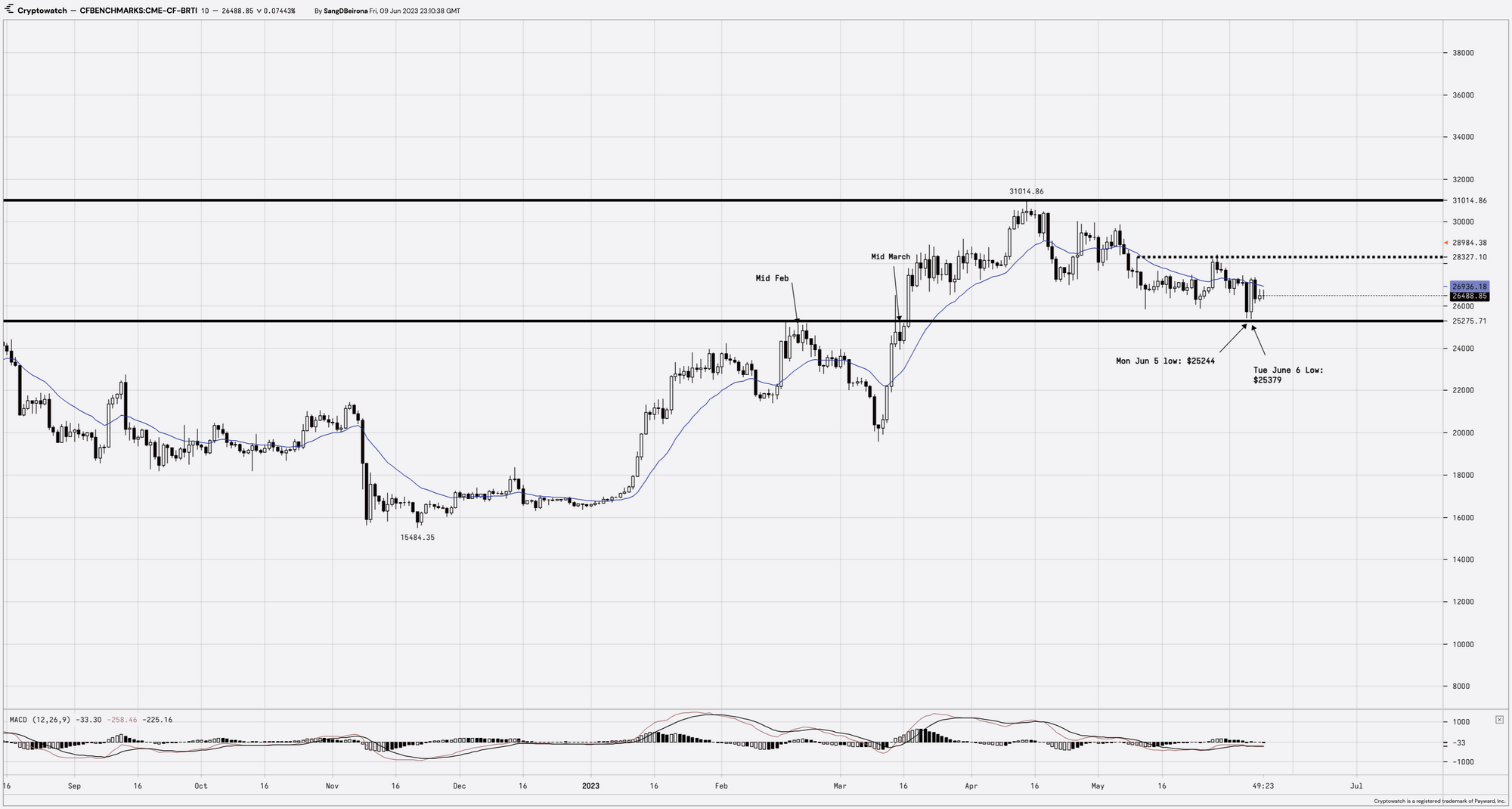 Gabe Selby Adds:
A further dynamic can be seen when we compare the performance of Bitcoin and Ether against small-cap altcoins. The chart below highlights our CME CF Bitcoin and Ether Reference Rates against the WisdomTree CF Altcoins Index (for which CF Benchmarks is Calculation Agent). A growing divergence in strength between the two mega-cap tokens and smaller cap coins is clear. Recent lawsuits have added more tokens to the ever-growing list of unregistered securities, and investor sentiment will likely continue to discount a regulatory risk premium into the price of these altcoins. Conversely, Bitcoin and Ether represent the two largest most decentralized blockchain protocols, and these qualities have continued to provide a measure of 'neutrality' from regulatory intervention. We should expect the implied differential to continue to favor Bitcoin and Ether so long as regulatory uncertainty over altcoins remains.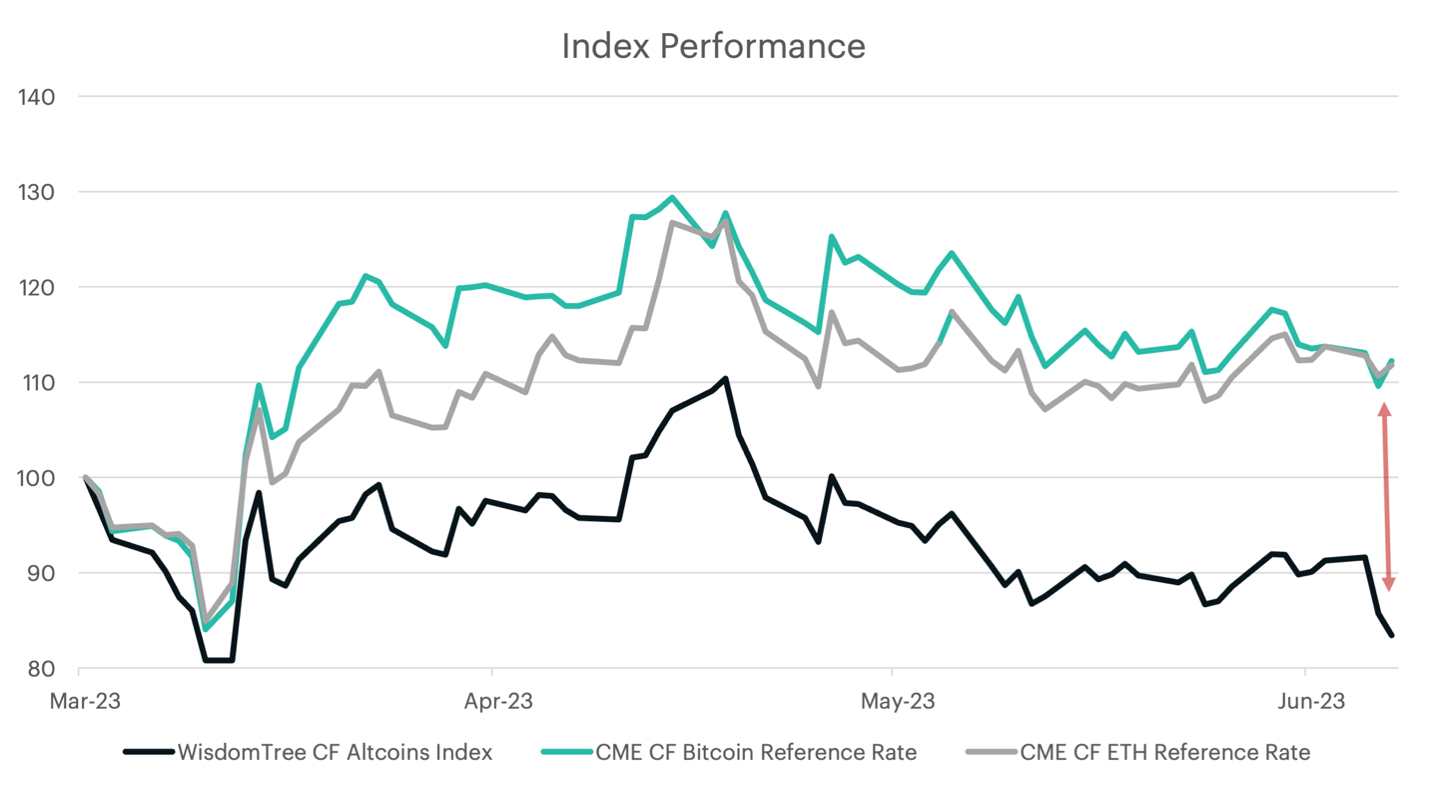 Macro Outlook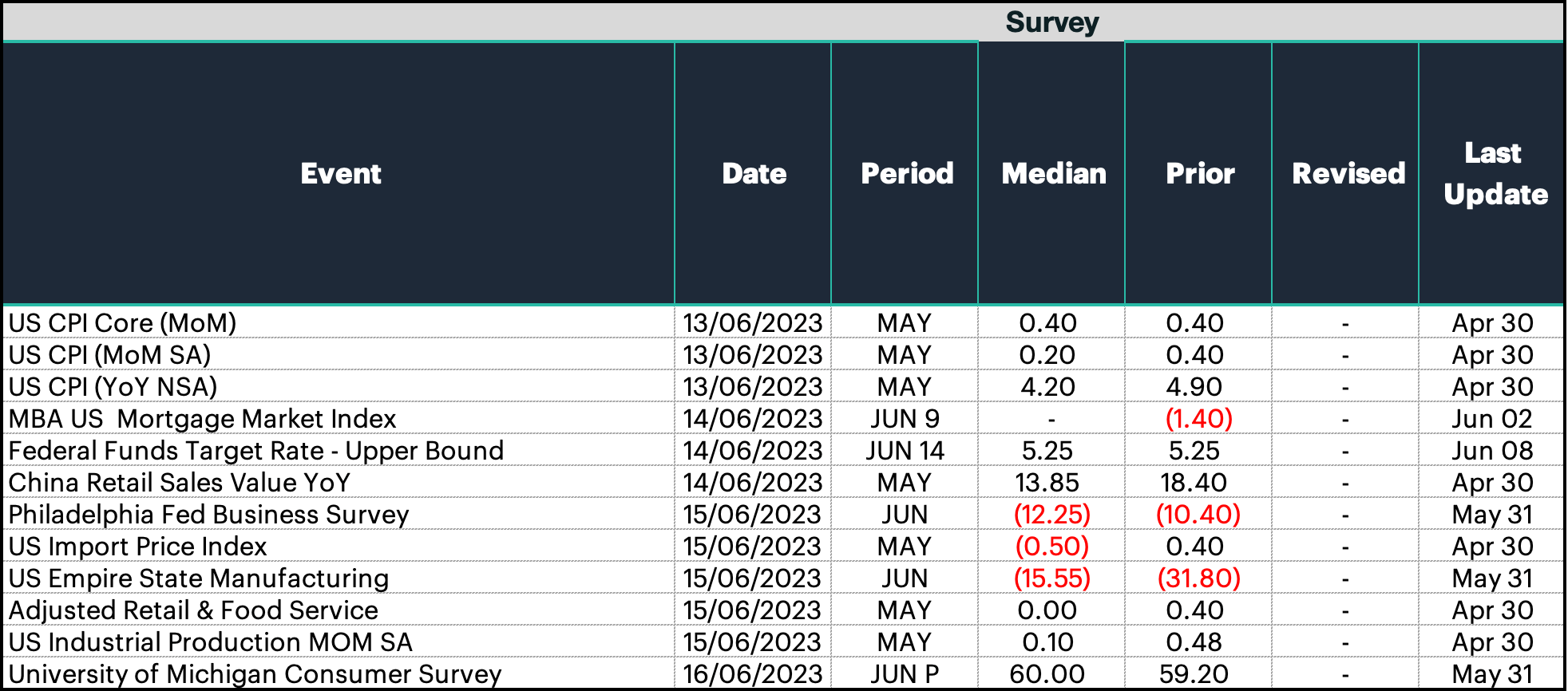 Market participants will have plenty to digest next week. The latest inflation data are set to be released just before the June FOMC rate decision. Headline U.S. CPI accelerated in the prior reading, primarily due to a rise in used car prices that partially offset earlier progress in 'goods' disinflation. On the other hand, forecast models are indicating that prices should cool further in May. The median forecast expects headline prices to rise just 0.2% month-on-month (MoM), while core prices remain more resilient (expected at +0.4% MoM). Markets remain uncertain as to whether the next FOMC decision will be a pause or hike. However, the outcome is likely to hinge on the committee's confidence, during the upcoming meeting, on whether year-end inflation is on track to meet forecasts, or not.
Gabe Selby
Featured Research: Quarterly Attribution Report - June 2023
It's time for the latest CF Benchmarks cryptocurrency and digital asset Quarterly Attribution Report (QAR) for the quarter ending June 1st, prepared by Gabe Selby, CFA.
This set of reports is the principle research content produced by CF Benchmarks each quarter. It represents the only published market coverage utilizing similar techniques to and the comprehensive reporting standards of the kind deployed by institutional investors in traditional asset classes.
Our digital asset universe is elaborated by our CF Digital Asset Classification Structure (CF DACS), the only taxonomy of its kind published by a regulated Benchmark Administrator.
By mapping CF Benchmarks' growing suite of portfolio indices against the CF DACS and integrating our expertise in on-chain dynamics, our QARs offer a uniquely detailed and accurate attribution of the digital asset categories that drove performance during the quarter.
To read the full compilation report or a specific index's report, please click on the respective links below:
Additional Resources