May 22, 2021
CF Benchmarks Recap - Issue 32
CF Benchmarks cited in Bitcoin futures fund application

New regulated benchmarks for ATOM, ALGO, BAT and DAI

The week when institutions kept buying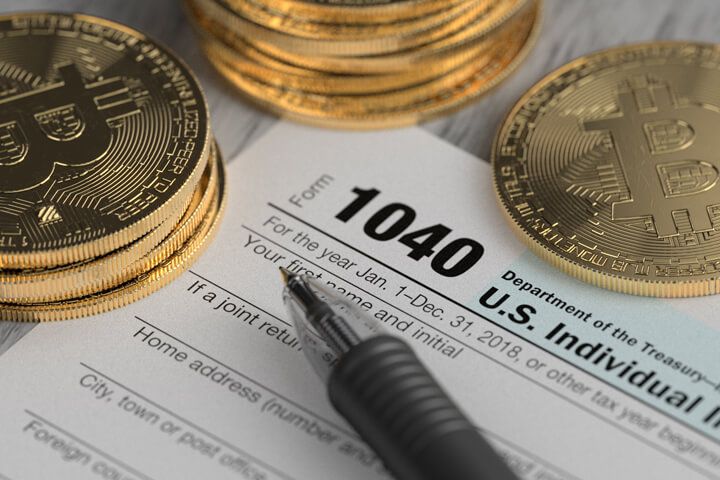 Big buyers in 'crash week'
The CME CF Bitcoin Real Time Index (BRTI) benchmark low for 'crash week' was $30,041.82 on Wednesday at 1310 UTC, an improbable strike vs. BRTI's 14th April peak of $64,858.1. Confirming their recently recoupled trend, Ether also notched its lowest since April on Wednesday at 13.10 UTC, when ETHUSD_RTI printed $1,892.83, before returning to the $1,900 handle. The large cap recovery remained modest by close of week. CF Bitcoin Settlement Price (US Close) ended at $36,303.33, 9.48% lower vs. Thursday. ETHUSD_RR, most liquid Ether settlement price, closed at $2,577.84, down 11.90%. The resumed slide was widely interpreted as a relapse of sentiment after China's State Council Financial Stability and Development Committee reiterated it would move against mining and trading…though gave few details of how or when. Beyond market shock and awe, institutional convergence has barely appeared to miss a step (see the sections below). As CoinDesk's Omkar Godbole noted, substantive investors by size favour OTC counterparties, citing Glassnode data that revealed a one-day BTC OTC desk outflow (institutional buying) of 10,292 on Wednesday, the highest in 3½ months. By Friday, BTC open interest at CME Group, venue of choice—often obligation—for institutions, had resumed a months-long position near the top spot among unregulated rivals. Additive or not, deepening entrenchment is clear.
CF Benchmarks named in BTC Futures filing
The fifth Bitcoin fund filing this year citing CF Benchmarks plans to invest in CME BTC Futures. Teucrium Bitcoin Futures Fund is sponsored by agricultural specialist Teucrium (Q1 AuM: $360.4m). The application follows an SEC investment management division statement last week saying it "will closely monitor the impact of mutual funds' investments in Bitcoin futures...on an exchange regulated by the CFTC".
Surfacing the institutional HODL
Chainalysis notes low Bitcoin exchange inflows in recent days relative to past crashes, suggesting retail participation predominates, with institutions selling less. The researcher cites a 3-day inflow of 412k BTC vs. 412k on 13th March 2020 alone. "This suggests that much of the selling is from people with assets already on exchanges, which tend to be retail investors."
Peirce says it's time, OCC taps the brakes
SEC Commissioner Hester Peirce, a cryptoasset progressive, giddied up the regulator on ETFs, with chair Gensler sphinx-like, and the OCC tapping the brakes. "Well past time" for Bitcoin ETFs Peirce said, noting "more information" versus previous application reviews. Meanwhile, incoming Comptroller Michael Hsu signalled possible dial-back of the OCC's 2020 confirmation that banks may custody crypto (which many have already begun doing).
The Returns: CME CF Bitcoin Reference Rate
Bitcoin's year-to-date return remains eye-watering despite its biggest weekly drop since March 2020. On 14th April, BRR stood at $63,175.28, 591.01% above 1st January reference. $35,734.10 on 19th May was down almost exactly 300pps. $38,984.34 on Friday took the YTD return to 326.41%.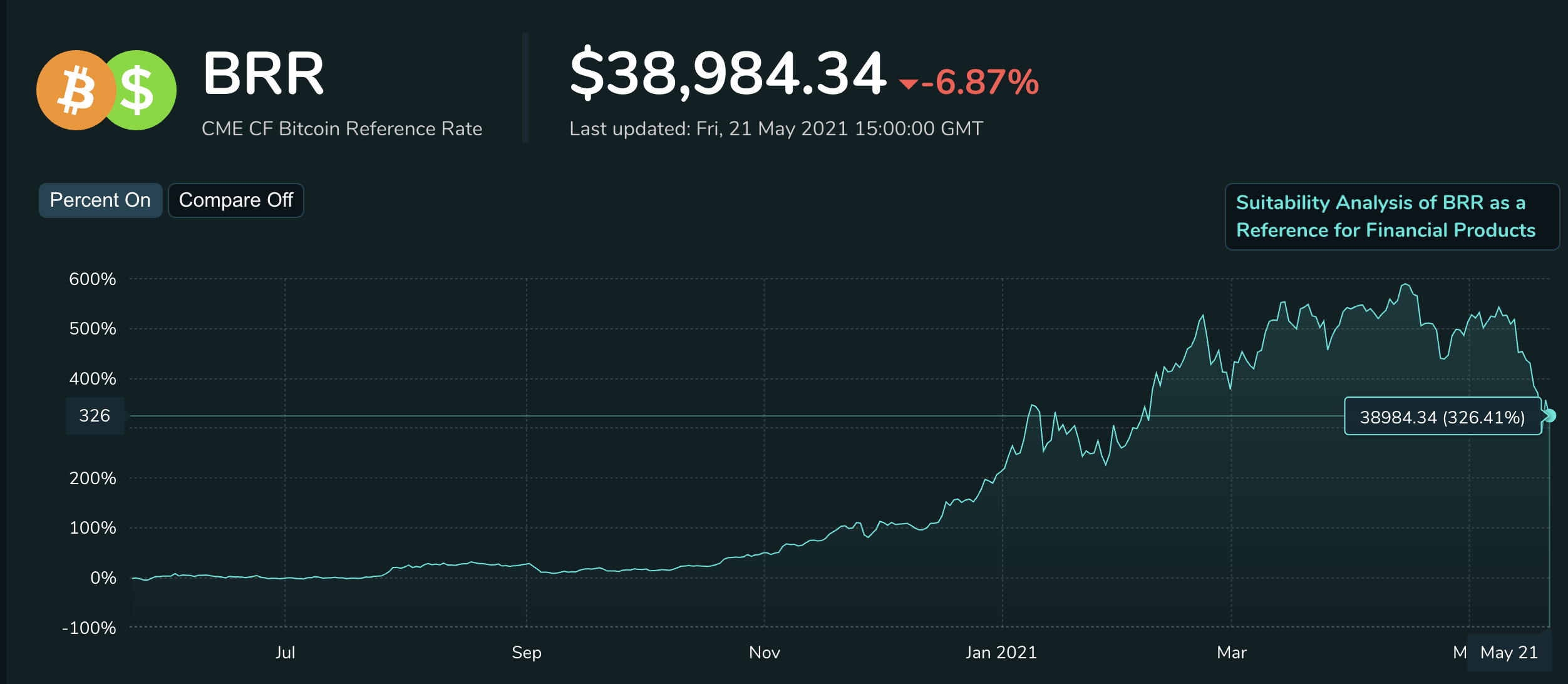 Featured benchmarks: ALGO, ATOM, BAT, DAI
CF Benchmarks launches Settlement Price and Spot Rate indices for ALGO, ATOM, BAT and DAI
Four cutting-edge tokens are now backed by the highest standards in regulated benchmark pricing
CF Benchmarks is launching benchmark indices for four exciting network tokens: ALGO, distributed by the Algorand blockchain; ATOM, Cosmos's native cryptocurrency; BAT, which is integrated with the Brave browser; and MakerDAO's DAI.
Each asset will be represented by two new benchmark indices: A Spot Rate, published every second, 24 hours a day, seven days a week, and a Settlement Price published once a day, every day, at 16.30 London Time.
The new benchmark indices will become the latest members of the CF Cryptocurrency Index Family. Full index methodology and governance documents can be found at www.cfbenchmarks.com.
The benchmark indices will bring standardised and transparently determined valuations of the assets to the substantial community of users of these assets whilst helping to develop their financial ecosystems. The new benchmark indices will thereby help alleviate frictions in valuing and accounting holdings encountered by many investors in these assets.
Read the full announcement on our blog.