Feb 05, 2021
CF Benchmarks Recap - Issue 18
CME Ether Futures countdown crowns an ethereal week
Canada corners market on Bitcoin ETF candidates
Video: Benchmark Basics Part II - more about what we do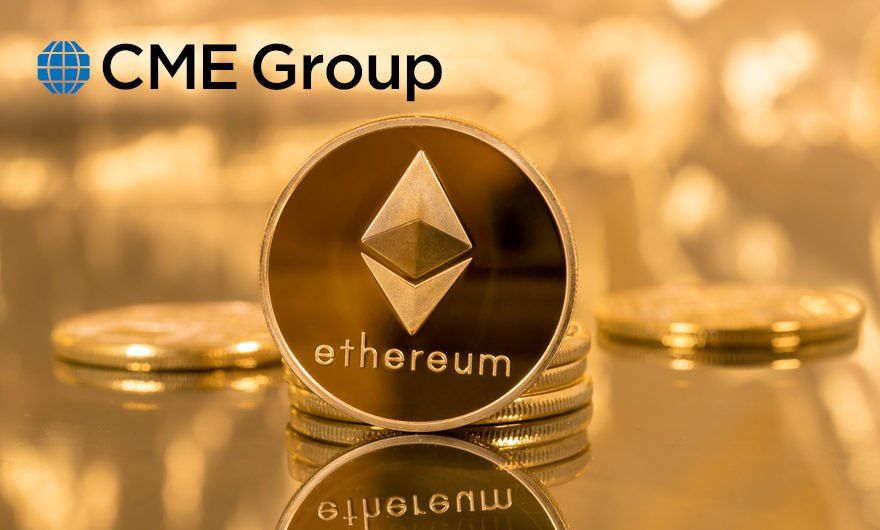 Ether's present, past and future
It's all coming together for Ethereum ahead of next week's major inflection point for the network, Ether the asset, its market and indeed the crypto industry. Recent weeks have brought price peaks that we disputed were 'record highs', though Friday's top was much less equivocal. Our CME CF Ether-Dollar Real Time Index was recorded at $1,761.86, with a 16:08:25 time stamp. That's certainly the highest the authorised Benchmark has traded since its inception in May 2018. It doesn't capture peaks preceding that date but can now serve as reference since the Ethereum network's go-live date of 30th July 2015. In all probability, the ETH market's recent reinvigoration is inextricably tied to CME Group's Ether Futures launch, scheduled for Monday 8th February. With Ether still second-largest cryptocurrency by market value (CF Benchmark's free-float market cap model equated to $123.18bn in January, vs. December's $61.64bn) a tacit institutional validation for Ether is no less significant than when CME Bitcoin Futures arrived, just over three years earlier. CME Ether Futures will be the second such contract settled to a CF Benchmarks index, this time, CME CF Ether-Dollar Reference Rate. Find out more about the launch here, or download the Fact Card. Kick the tires of our Reference Rates Methodology here.
Gravity defying DeFi adds to ETH lift
DeFi has also been ebullient ahead of the Ether futures launch and another circumstantial feeder of the market's strength. Earlier this week, Decrypt.co cited DeFi Pulse data pointing to $30bn in the closely watched 'Total Value Locked' (TVL) metric and TVL has since advanced further to $35.2bn, according to the aggregator itself. Continued effervescence of (mostly) ETH-based protocols (via ERC-20 tokens) continue to account for much of TVL's resurgence. For example, Uniswap's native governance asset, UNI, broke above $20 to an all-time high at the end of January. Inevitably, renewed attention on the ongoing barrage of exploits (like this week's attack on Yearn Finance) is also likely, as DeFi returns to the spotlight.
Keeping count in Canada
There are currently four 'live' public applications for open-ended Bitcoin ETFs with the Ontario Securities Commission. All four involve at least one of our two Bitcoin benchmarks, BRR and BRTI. At some point, it will be intriguing to know what might be 'in the water' of that region to make it such a hotspot for applications to realise the 'holy grail' of Bitcoin institutional adoption. For now, here are details of the filings by Evolve (plus a Wealth Professional write up) Horizons, Arxnovum and Valkyrie. What needs less explanation is the growing recognition that applications to offer fully authorised crypto ETFs have better chances when underpinned by fully authorised benchmark indices.
The Returns: Meet the Nasdaq Crypto Index Settlement Price
Here's an unusual opportunity to see what would have happened if you had bought a basket of crypto assets (similar, though not identical to our Ultra Cap 5) on 1st December 2020. Total returns would be well over 100%, according to our hot-off-the-press Nasdaq Crypto Index Settlement Price, produced in partnership with The Nasdaq Group, Inc. More about NCIS here.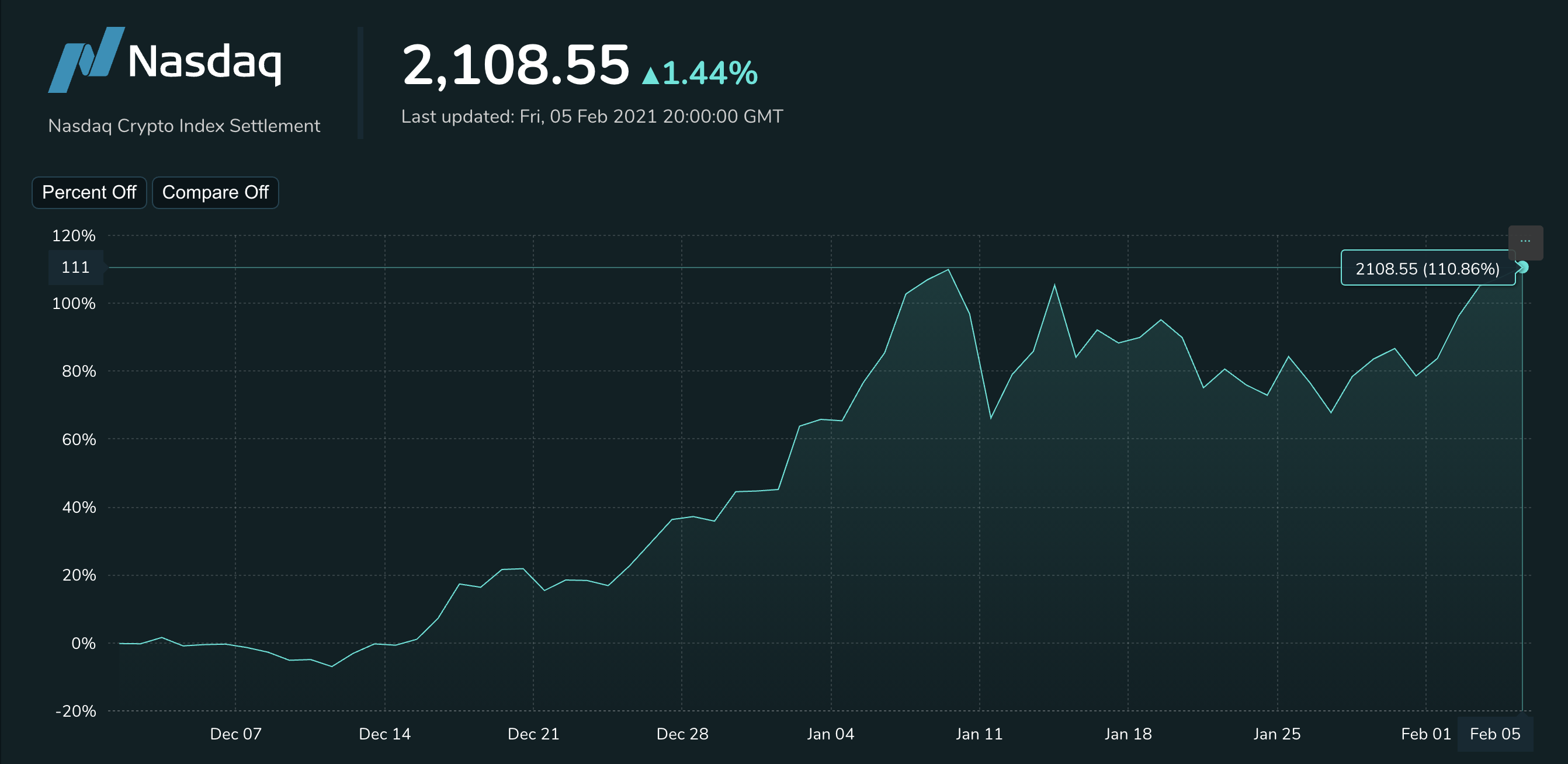 Featured benchmarks: CME CF Bitcoin Reference Rate, CME CF Ether-Dollar Reference Rate
Video: 'Benchmark Basics Part II' – CFB CEO interviewed on Kraken TV
Following the first part of an interview of CF Benchmarks CEO Sui Chung on Kraken Exchange's popular video channel a couple of weeks ago, the second half is now available. Part 1 covered almost everything anyone could wish to know about what CF Benchmarks does exactly. Part 2 covers the factors probably driving the price of crypto assets, and why 'price manipulation' is the least credible explanation. Also, why many institutions are having second thoughts about their 'blockchain not Bitcoin' stance. And how Ether's growing institutionalisation might be a partial reflection of its status as a proxy for Silicon Valley.
Watch the full video by clicking here.


CME Ether Futures come to market
CME Ether Futures will become available for trading on Monday 8th February 2021
CME Ether Futures will be the second cryptocurrency contract the exchange has launched since CME Bitcoin Futures began trading in December 2017. Like CME Bitcoin Futures, CME Ether Futures will be settled to an index that is devised, published and administered by CF Benchmarks. That index is the CME CF Ether Dollar Reference Rate (ETHUSD_RR). It is a benchmark index price that aggregates trade data only from Ether-USD markets operated by exchanges that conform to the CME CF Constituent Exchange Criteria. ETHUSD_RR is published once each day at 4pm London time and has been published each day since its inception on 14th May 2018.
CF Benchmarks is the only regulated cryptocurrency Benchmark Administrator. It is authorised under UK FCA Benchmark Regulation, a regime that, post-Brexit, is equivalent to European Union Benchmark Regulation. The CME Group is regulated by the U.S. Commodity Futures Trading Commission. This end-to-end oversight will make CME Ether Futures the only fully regulated Ether market in the world. Consequently, participants can have complete confidence in its integrity, regulatory compliance, transparency and accuracy.
Full details at cmegroup.com