Jan 22, 2021
CF Benchmarks Recap - Issue 16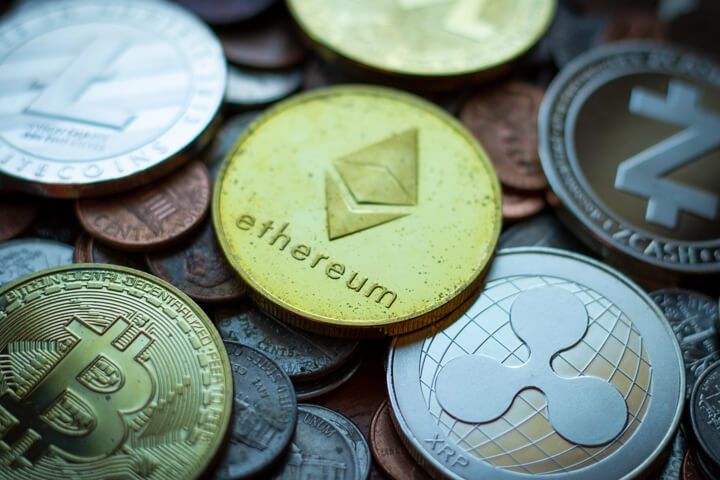 Ether in focus
Ether's turn (to make the case for benchmarks)
BlackRock breaks cover
CF Benchmarks CEO explains benchmark basics
Thick and fast; high and low
As if to drive home the lesson that significant crypto adoption news and promising political developments won't always necessarily coincide with celebratory price action, the two largest cryptocurrencies veered in separate directions this week. That's even as further pillars of the financial establishment signalled positive stances on digital assets for the first time (whilst a familiar name doubled down) and Joe Biden's likely new financial team augured the best crypto-qualified White House yet. Several publications proclaimed record highs for Ether. The CME CF Ether-Dollar Reference Rate (on which the CME will soon begin settling its new futures) reached the highest in at least two years on Tuesday, closing at $1,402.35. But the reference was another demonstration of benchmarks: some exchanges had recorded ETH far higher in 2018. Kraken's ETH-USD reached $1,594.89 in January that year, for instance. In contrast to ETH, CME CF Bitcoin Real Time Rate touched its lowest since a near $42k record earlier this month. BRTI's lowest post-ATH print is now $28,810.66. Timestamp: 2021-01-22 01:18:55.
BlackRock, Skybridge set direction; Goldman may 'soon' follow
The lull in the procession of 'big beasts' coming in from the cold ended this week as the largest asset management firm in the world signalled acknowledgement of a Bitcoin market with sufficient integrity for it to participate in. BlackRock mandated two funds to trade Bitcoin futures, though only "cash-settled bitcoin futures traded on commodity exchanges registered with the CFTC". The only such contract is offered by the CME Group and settled by CF Benchmarks' CME CF Bitcoin Reference Rate. Skybridge Capital's Bitcoin fund launched on 4th January, and reached some $360m around two weeks later, though the group conceded it will face challenges if (or as widely expected this year, 'when') the first Bitcoin ETF is approved. Goldman Sachs, till recently still officially obdurate, joined fellow stalwarts JPMorgan and Citigroup in scoping out digital asset custodial services, according to Coindesk. MicroStrategy doubled down. The firm had accumulated a $650m Bitcoin holding by December. It's now added around $10m more after the latest pullback to make 70,784 BTCs held in total. (Decrypt).
Watching Washington
Pending confirmation hearings, the make-up of U.S. President Joe Biden's financial team remains tentative. Still, prospects appear fair with both Houses under Democrat control for the first time in a decade. Former CFTC chair Gary Gensler emerged as SEC chair front runner last week. Former Ripple Labs advisor Michael Barr is reportedly set to replace Coinbase's former legal chief Brian Brooks as OCC chair. Reuters pointed to Georgetown University professor Chris Brummer as possible CFTC head. Meanwhile, in a testimonial submitted to the Senate Finance Committee, Treasury Secretary nominee Janet Yellen switched from wishing to 'curtail' crypto to recognising its potential. The committee unanimously approved her nomination. A confirmation hearing is possible as soon as Friday.
The Returns: Ultra Cap 5 stabilises above 4,000
The crypto benchmark ended a second week above 4,000, pointing to a remarkable paper return given its August 2020 inception of 1,000.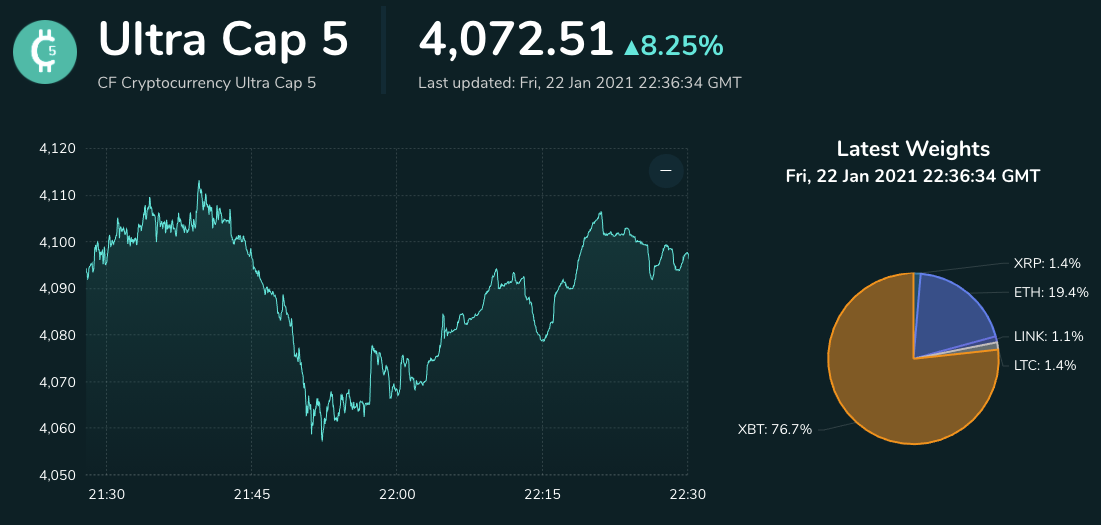 Featured benchmark: CME CF Bitcoin Reference Rate
Video: CF Benchmarks CEO interviewed on Kraken TV
Here's a unique opportunity to get up to speed with what CF Benchmarks is, what it does and how.
Kraken's Bitcoin Strategist Pierre Rochard interviewed the head of the authorised benchmark administrator on the exchange's video channel, with the goal of setting out 'Benchmark Basics'.
The discussion touched on why benchmarks and reference rates are needed, how CF Benchmarks devises its unique pricing instruments, the efforts it makes and the lengths to which it goes to ensure accuracy and market integrity and much, much more.
Watch the full-video by clicking here.