Nov 16, 2020
Bitcoin Cash eyes soft landing after hard fork
Bitcoin Cash Node has now 'forked' from Bitcoin Cash ABC. What does this mean for the regulated Benchmark Bitcoin Cash price?
Forked again
Bitcoin Cash has been at it again. Since splitting from Bitcoin in 2017, it has been the only one out of around 100 Bitcoin spin-offs to have survived for more than a month. It remained unscathed after a further split in 2018, resulting in the creation of Bitcoin SV.
Disagreements over a cryptocurrency protocol upgrade can sometimes force a split (or 'fork') in the blockchain, essentially resulting in the creation of a new chain and a new crypto.
In an overly compressed nutshell, as part of a new policy change, an 8% surcharge was proposed on mining the crypto with the sixth-largest free-float market cap (of $3.350bn as of CF Benchmarks' end-October data).
Whenever such policy changes occur, some parties involved in maintaining the blockchain may disagree with it. They may wish to maintain the protocol as it was (or go in some other direction).
In BCH's case, those wishing to leave things alone are now comprised under the label Bitcoin Cash Node (BCHN). Those miners who favoured the change now fall under Bitcoin Cash ABC (BCHA). The change, formally known as the introduction of the Infrastructure Funding Plan, was enacted over the weekend. Voilà, a new token was born whilst another was renamed.
Cash hash contest
Pre-switch acrimony—amply covered by the crypto press—might turn out to be the most drama we will see about this though. Even before the split, reports suggested that at least 80% of BCH miners would support the Bitcoin Cash Node blockchain. Subsequently, blockchain data researchers noted a surge in mining hash rate in favour of BCHN (over 120 more BCHN blocks had been mined by Monday compared to BCHA blocks).
Of course, hash rate as validation of a cryptocurrency is a relative point of view. However, from the perspective of significant third parties, like exchanges, and benchmark index providers, like CF Benchmarks, which publishes the only authorised Bitcoin Cash price—hash rate 'popularity' is critical.
For CF Benchmarks, hard forks are dealt with by our longstanding Hard Fork Policy (PDF) which is designed to deal with any contingency that may arise from protocol changes.
Ultimately, this switch could have brought about major changes to the Benchmark known as Bitcoin Cash, trading under the ticker 'BCH'. Platforms already listing BCHA price the new asset as low as $0.0008 on Monday. That compared to the Benchmark price of Bitcoin Cash of $253.07, up 3.5% on the day, as of 19.33 UTC.
Price chart – CF Bitcoin Cash-Dollar Spot Rate – 19:33 UTC 16-11-2020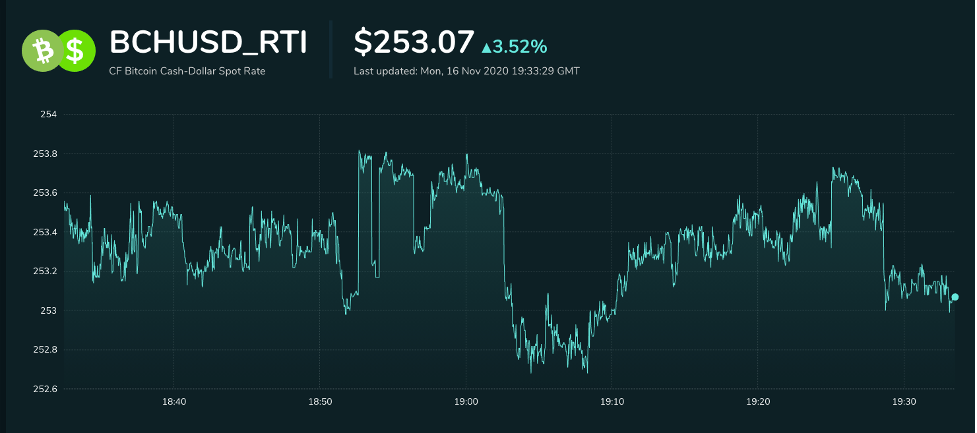 Source: CF Benchmarks
Material or not?
Long story short, according to our Hard Fork policy, such a radical change of the BCH benchmark would require the "Material Hard Fork and Resultant New Token Criteria" to have been met. Though the criteria include a 7-day waiting period, following the fork event, it already looks very unlikely that any of the conditions will be met.
Here are the criteria:
The New Token Pair must be available to trade on at least 2 constituent exchanges
The Token Pair trades at a price greater than or equal to 10% of the combined Price of both the Original Token Pair and the New Token Pair
The Trading Volume of the New Token Pair must be greater than or equal to 10% of the combined Trading Volume of the Original Token Pair and the New Token Pair
In other words, this looks like it will turn into a case of "Materiality is Not Met" according to CF Benchmarks' Hard Fork Policy.
Just to be extra clear, no decision is possible until the prescribed full seven days have passed. This article is just my own speculation and has no bearing on that decision.
That said, for now, it looks more likely that it is Bitcoin Cash Node that will eventually be confirmed as having a benchmark Index rather than Bitcoin Cash ABC.