SEC leans towards regulated Bitcoin prices and futures

Crypto ETF train latest: Bitwise, VanEck, Fidelity

CME Micro Bitcoin Futures kick-off with major gains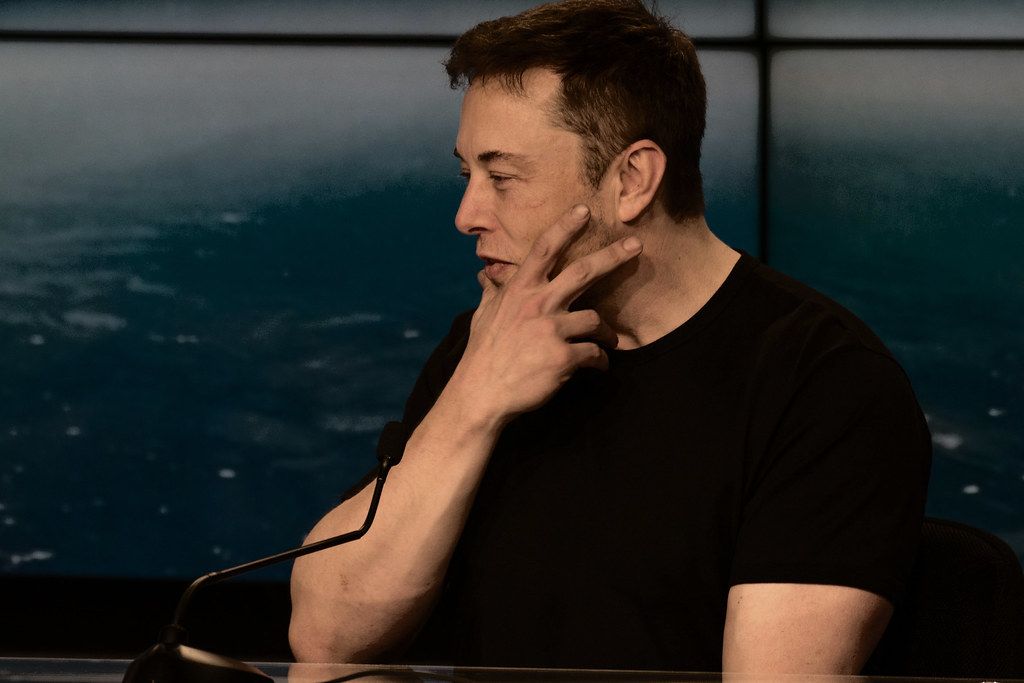 The SEC vs. Musk
The week's most important thread for the institutional case: The SEC's Division of Investment Management (IM) "strongly" encouraged investors "interested in investing in a mutual fund with exposure to the Bitcoin futures market to carefully consider the risk disclosure of the fund". That echoed previous chairman Jay Clayton's opinion from 2017, new chair Gary Gensler's pre-confirmation worry, and his post-confirmation call for congressional regulation. In short, IM's misgivings are CF Benchmarks' 'life's work'. Empirical evidence of the CME CF Bitcoin Reference Rate's (BRR) market integrity: An analysis of the suitability of the CME CF BRR for the creation of regulated financial products. In effect, with two active SEC reviews of CFB-powered Bitcoin ETF applications underway, the SEC has reaffirmed its preference for regulated Bitcoin prices (aka BRR) and regulated Bitcoin futures (aka CME Bitcoin Futures). Meanwhile, the Tesla CEO's volte-face on "vehicle purchases using Bitcoin", on concerns about "use of fossil fuels" temporarily lengthened Bitcoin's stay under $50,000. Still, it's uncontroversial to assume that 1. Tesla's BTC receipts have been low 2. the eco aspect is both valid and arguable; 3. scepticism on Tesla's jet-shuttling CEO is reasonable. An alarming U.S. CPI print dragged stocks and cryptos before calm returned by Friday, BRR close: $50,769.13. New CME CF Ether-Dollar Reference Rate record (Wednesday): $4,333.76.
Feds look into Binance Holdings
Binance Holdings Ltd.—legally independent from Binance US—is being investigated by the IRS and the U.S. Justice Department. Long-standing queries from blockchain forensics firm Chainalysis and the equally persistent concerns of Chainalysis's main clients, federal agencies, might be coming to a head. In March Bloomberg reported a CFTC probe of possible crypto derivatives trading by Binance Holdings' U.S. clients.
Fidelity, VanEck, Bitwise on the ETF train
The ETF train continues, putting the SEC's Bitcoin caution into further context. Its latest BTC-related approval (see also COIN) is Bitwise Asset Management's Bitwise Crypto Industry Innovators ETF (NYSE: BITQ). VanEck followed the lead of Evolve's pioneering Ether ETF (in Canada) with a filing for ETH to the SEC. Fidelity's proposed BTC ETF is now backed by a 19b-4 application to the SEC from the CBOE, where it would trade.
GS goes back to BTC futures, SQ holds firm, Palantir joins
Adoption continues on Wall St and Main St: Square conspicuously noted it retained its overarching BTC strategy, after its 'industrial bank', Square Financial Services completed FDIC and Utah regulatory approval in recent weeks. Goldman's revived Bitcoin futures desk is into its second week. Palantir verges on joining Tesla, MSTR, SQ and others in adding BTC to its balance sheet.
The Returns: CF Stellar Lumens-Dollar Settlement Price
Widely considered to be an environmentally friendly cryptocurrency, are the green credentials of the Stellar network's pre-mined, free-to-use token reflected in its recent price performance? The short answer is that it's difficult to differentiate a clear advantage. However, at 871.59%, XLMUSD_RR's 1-year return is notably only 2nd to ETHUSD_RR among CFB RR rates.


Featured benchmarks: CME CF Bitcoin Reference Rate
CME Micro Bitcoin Futures opening volumes surge
The CME's latest BRR-powered Bitcoin contract is off to a strong start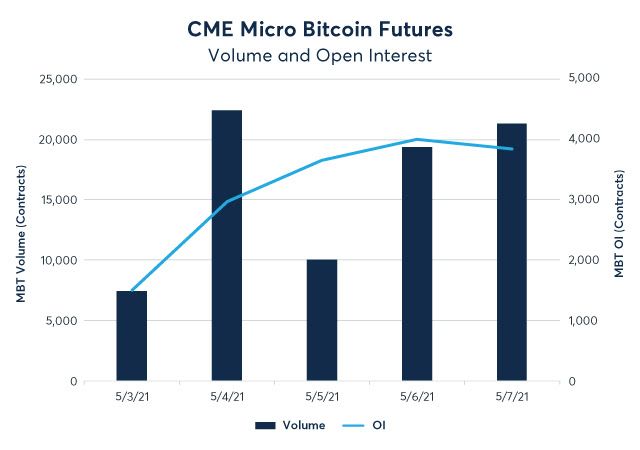 Source: CME Group
Following their launch on 3rd May, the CME Group's Micro Bitcoin Futures (MBT) contracts posted an impressive set of numbers in their first week of trading. Representing 1/10th of one Bitcoin and 1/50th of a regular CME Bitcoin Futures contract, MBT offers fine-tuned Bitcoin exposure with the same rigorous adherence to regulatory compliance and safeguards as full-sized CME Bitcoin Futures, including settlement to the only regulated Bitcoin price, the CME CF Bitcoin Reference Rate (BRR). As institutional crypto interest gathers pace and the SEC reaffirms its preference for regulated markets and prices, MBT's early volume surge looks cogent.
Here are some week-one trading highlights:
16,112 average daily volume
3,192 average daily open interest
36% of overall volume came from outside the United States
Over 50% of the trades were executed during non-US trading hours with quoting available nearly 24 hours a day
834 unique, active accounts trading
Read more about the first week of Micro Bitcoin Futures Trading on the CME Group's website. Find out more about MBTs here.