Oct 22, 2020
BTC and LTC's Peak PayPal Volume
BTC and LTC's peak PayPal volumes
A day ago, it was possible, even sensible not to read too much into eye-catching crypto price moves in the wake of major industry news. Bitcoin's break above $12,000 after all, followed a third attempt in as many months, and as we noted, was not immediately backed by significant trading volumes.
Well, we've had to drop that attitude.
With Bitcoin going on to score another upside milestone in remarkably short order—this time briefly touching $13,000 for the first time in over a year—the emotional charge behind the moves is no longer in doubt. Rudimentary analysis demonstrates that BTC trended higher in the hours that followed PayPal's big reveal on Wednesday.
PayPal's announcement crowned a remarkable succession of upbeat news points (MicroStrategy, Square, Stone Ridge, Grayscale's latest achievements, perhaps even UK fintech Mode's relatively minor boast should also be included).
What's more, given that the payments giant's announcement went a step further than even the most bullish predictions about its crypto integration, Bitcoin's advance wasn't the only reaction that went beyond run-of-the-mill.
The biggest crypto beneficiary by price was not in fact Bitcoin. Instead, it was the ninth-largest digital token in market value, Litecoin, that moved most. Bitcoin's peer-to-peer focused rival galloped as much as 12% on the day at one point. Its outperformance of the other 'altcoins' PayPal will allow on to its platform—Ethereum and Bitcoin Cash—as well as BTC, might be an artefact of LTC's relatively low dispersion across derivative markets compared to other digital assets. Perhaps the strength of Litecoin's jump can also be put down to the proximity of additional promising news in the shape of a possible cross-chain tie-up with Cardano.
Either way, Litecoin/USD reaction price reaction was akin to that of Bitcoin, with sentiment definitively buoyed as illustrated in the chart below.
CF Litecoin-Dollar Spot Rate – 12:00-16:00 UTC 21-10-2020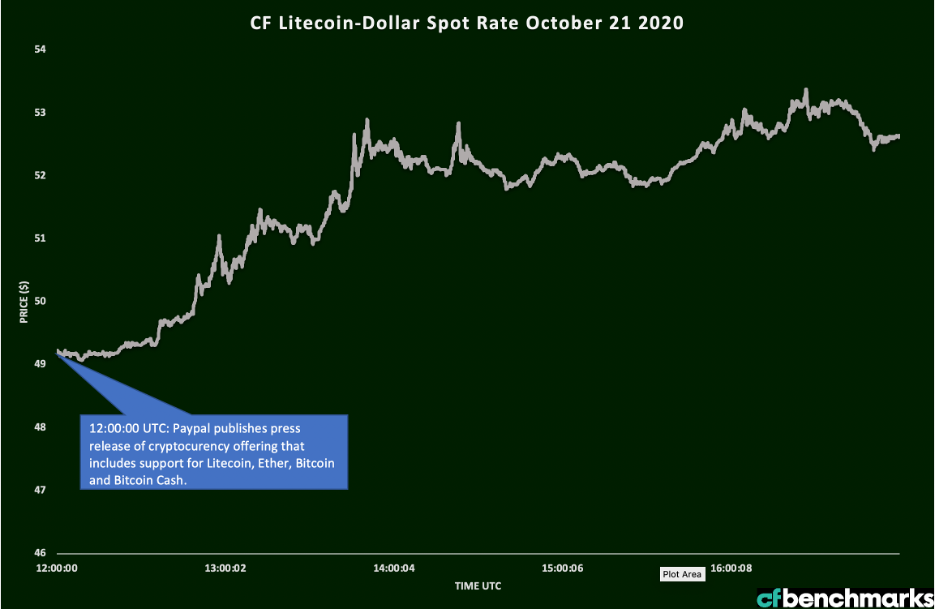 Source: CF Benchmarks
Likewise, as the second chart shows, volumes at CF Benchmarks constituent exchanges displayed a similar profile to Bitcoin's PayPal reaction: somewhat tardy. LTC/USD turnover did not print demonstrably above norms till well after PayPal's 12:00 UTC Wednesday announcement. Volumes peaked at 14:00 UTC, more than six times higher than their 90-day rolling average.
Litecoin-Dollar volume - 12:00-16:00 UTC 21-10-2020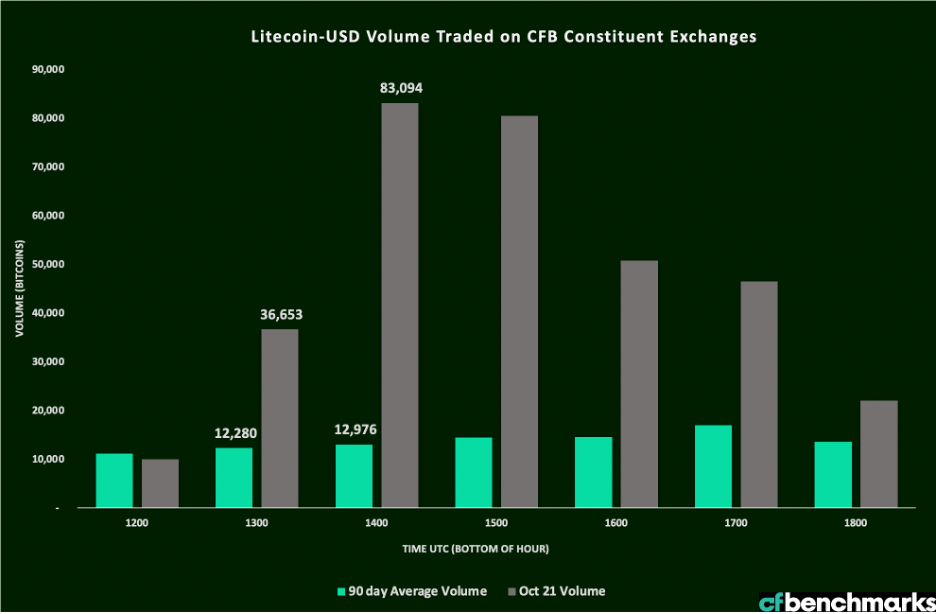 Source: CF Benchmarks
In short, although their reactions were more emphatic than timely, the reaction of both Bitcoin and Litecoin markets confirm that this week ought to go down in history as one in which cryptocurrency adoption reached a major inflection point.
About CF Benchmarks data
CF Benchmarks' Real Time Rates and Reference Rates are constituted of price data from rigorously screened exchanges. Data are subjected to multiple computations and tests to eliminate anomalies and potential manipulation before admission to our indices. These methodology are an obligation enforced by CF Benchmarks' authorisation as an official Benchmark Administrator from the FCA. In other words, CF Benchmarks' Real Time Rates and Reference Rates are bona fide benchmarks for crypto markets.