Aug 25, 2020
Bitcoin and Ether Price Integrity Now comes in Euros
Let's face it. Despite traditional cultural friction between Bitcoin, the top cryptocurrency, and the U.S. dollar, the world's dominant reserve and fiat currency, their mutual interdependence is unquestionable. That's chiefly because the value of Bitcoin traded in dollars dwarfs the value traded in any other currency.
So why is CF Benchmarks today launching a euro-denominated Bitcoin Reference Rate?
Indeed, judging by CF Benchmark's XBT-USD (Bitcoin-to-U.S. Dollar) Reference Rate at the time of writing, we know that $4.1 billion worth of Bitcoin was traded during the BRR's one-hour observation window over the year to date. On the same terms, CF Benchmark's XBT-EUR Reference Rate's turnover so far in 2020 has been about €1.4 billion.
Over the same stretch, the daily XBT volumes observed in the XBT-EUR cross were on average 42% of those observed for the XBT-USD cross, so it's clear dollar demand for bitcoin far outstripped demand denominated in the euro, the world's second most-traded currency.
Figure 1. – CF Benchmarks Bitcoin Reference Rate volumes, monthly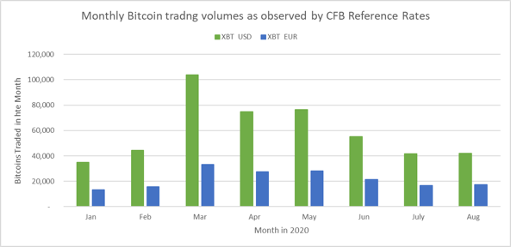 Source: CF Benchmarks
It's worth bearing in mind that CF Benchmarks' Bitcoin Reference Rates—Europe's only officially authorised cryptocurrency benchmarks—are calculated using price data from a carefully vetted set of exchanges. Our key aim is to maintain price integrity and watertight regulatory compliance, and that is squarely at the heart of our exchange criteria. As such, our Reference Rate trading volumes only reflect data that were collected from the five exchanges currently meeting our stringent conditions. (You can find out more about the CF Benchmarks' criteria for constituent exchanges here).
Either way, the market for euro-flavoured Bitcoin can't be dismissed. For that matter, Bitcoin markets in other currencies are also important for traders who require them. Welcome to the wild and wonderful world of foreign exchange. In short, it's a realm in which any measures that can reduce trading expenses and increase convenience are worth taking.
So, for market participants located in euro countries, or simply those who need to convert Bitcoin holdings into euros, it makes sense to conduct all BTC transactions in that currency in the first place.
What's more, in step with the acceleration of Europe's awakening to cryptocurrencies, BTC/EUR trading volumes continue to trend higher. Monthly BTC/EUR volumes marked their 2020 high at almost €5 billion in January compared to just €429m on 1st January 2017, according to exchange API data aggregator bitcoinity.org.
The case for a CF Benchmarks euro-denominated Ether Reference Rate, also launched today, is just as strong. For one thing, the De-Fi boom that is underpinning Ethereum prices and volumes is well documented. Plus, with the dollar buckling under the weight of the Federal Reserve's quantitative easing deluge, it's little surprise that Ether's total euro market capitalisation recently grew faster than its dollar one. Furthermore, so far this year, relative daily ETH volumes in euros have been slightly higher than the equivalent for Bitcoin. On average, ETH-EUR volumes were 45% of those observed for the ETH-USD cross. So, an ETH-EUR reference rate is as timely as ever.
Figure 2. – CF Benchmarks Ether Reference Rate volumes, monthly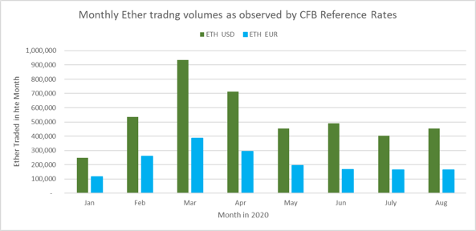 Source: CF Benchmarks
For both Ether and Bitcoin, CF Benchmarks was already the only UK and EU-authorised provider of cryptocurrency benchmark indices. Now, it's the only regulated benchmark administrator that provides euro-denominated Ether and Bitcoin indices. With public methodologies and transparent governance, CF Benchmarks' dollar and euro indices remain the only reliable way that financial services providers can settle cryptocurrency price risk with confidence.