Sep 12, 2022
Pre-Merge Dynamics Rippling Through Markets
The world's most popular programmable blockchain is set for a major upgrade this week: the Ethereum blockchain will switch over its process for executing transactions and mining to a Proof-of-Stake (PoS) consensus mechanism. This change may seem to be superficial at first glance, but it has so far had a profound impact on crypto markets.
Firstly, we have seen ETH dominate its competitors since the Ethereum Foundation publicly announced their planned 'Merge' timeline in mid-July. So-called ETH Killers, such as Cardano (ADA), Tezos (XTZ), and Polkadot (DOT), have underperformed their blue-chip competitor by 34 percentage points on average and in absolute terms. The ETH Killers cohort has historically set themselves apart by utilizing more advanced protocol mechanisms (such as PoS). Lately, investors seem to be discounting this historical 'edge' given that ETH will now have mostly the same features that make these competitors faster and more efficient, but without ETH's much larger, more established user-base.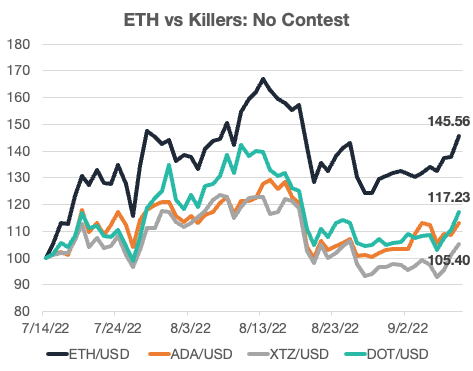 This bullish ETH sentiment has helped the crypto market stabilize much quicker during the most recent August pullback. Taking a closer look, price action in the DeFi space has been especially resilient. This is due to that fact that the Ethereum blockchain remains the most critical for Finance protocols. Currently, DeFi tokens running on Ethereum attribute to $35B of the $60B in total value locked (TVL), according to defillama.com.
Outside of the obvious benefits of higher speed and bandwidth, the decision to adopt a PoS blockchain will allow environmentally conscious institutions to utilize Ethereum at a much larger scale, pathing the way for mass institutional adoption. When comparing the max drawdown over the current quarter, we have seen the relative outperformance of DeFi protocols fend off the 20% threshold much better than the broader market.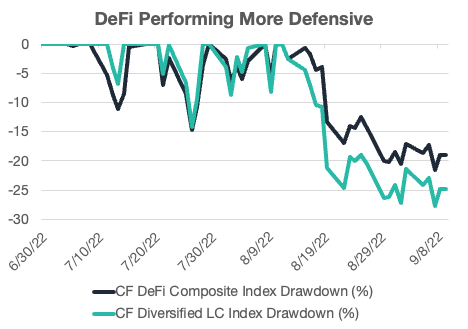 If you are interested in learning more about how the upcoming merge has been impacting crypto markets, then please click here to read our latest attribution report on our flagship indices.