Sep 02, 2023
Monthly Market Recap - August 2023
This report aims to provide the reader with a quick overview of the blockchain economic categories influencing recent market performance, gain insights into institutional investors' capital allocation in digital assets, and understand how crypto is affected by the broader market landscape.
Key takeaways for the month:
Risk aversion characterized the majority of August's market activity. Bitcoin prices fell below the $28,000 support threshold for the first time since May. As the month drew to a close, renewed optimism received a lift from a highly anticipated court ruling. A court decision required the U.S. Securities and Exchange Commission to review its previous dismissal of Grayscale's application to convert its Bitcoin trust into an ETF. The possible approval of a spot Bitcoin ETF is regarded as a pivotal step toward heightened institutional adoption, reigniting some optimism into a month otherwise dominated by risk-off sentiment.
Amidst this backdrop, our gauge for mega-cap tokens, the CF Ultra Cap 5 Index, showcased its resilience with a modest 6% decline. This was largely attributed to its higher allocation to Bitcoin and Ether, which played a major role in relative outperformance. In contrast, the CF DeFi Index led the other indices downward, witnessing a substantial drop of over 18%. Additionally, the CF Blockchain Infrastructure Index faced notable underperformance, posting a decline of 16%.
Open interest in Bitcoin and Ether futures both saw gains (+7.8% and +22.1% respectively). Heightened institutional interest in Ether has likely been bolstered by recent filings for Ether futures exchange-traded funds (ETFs).
Monthly Index Performance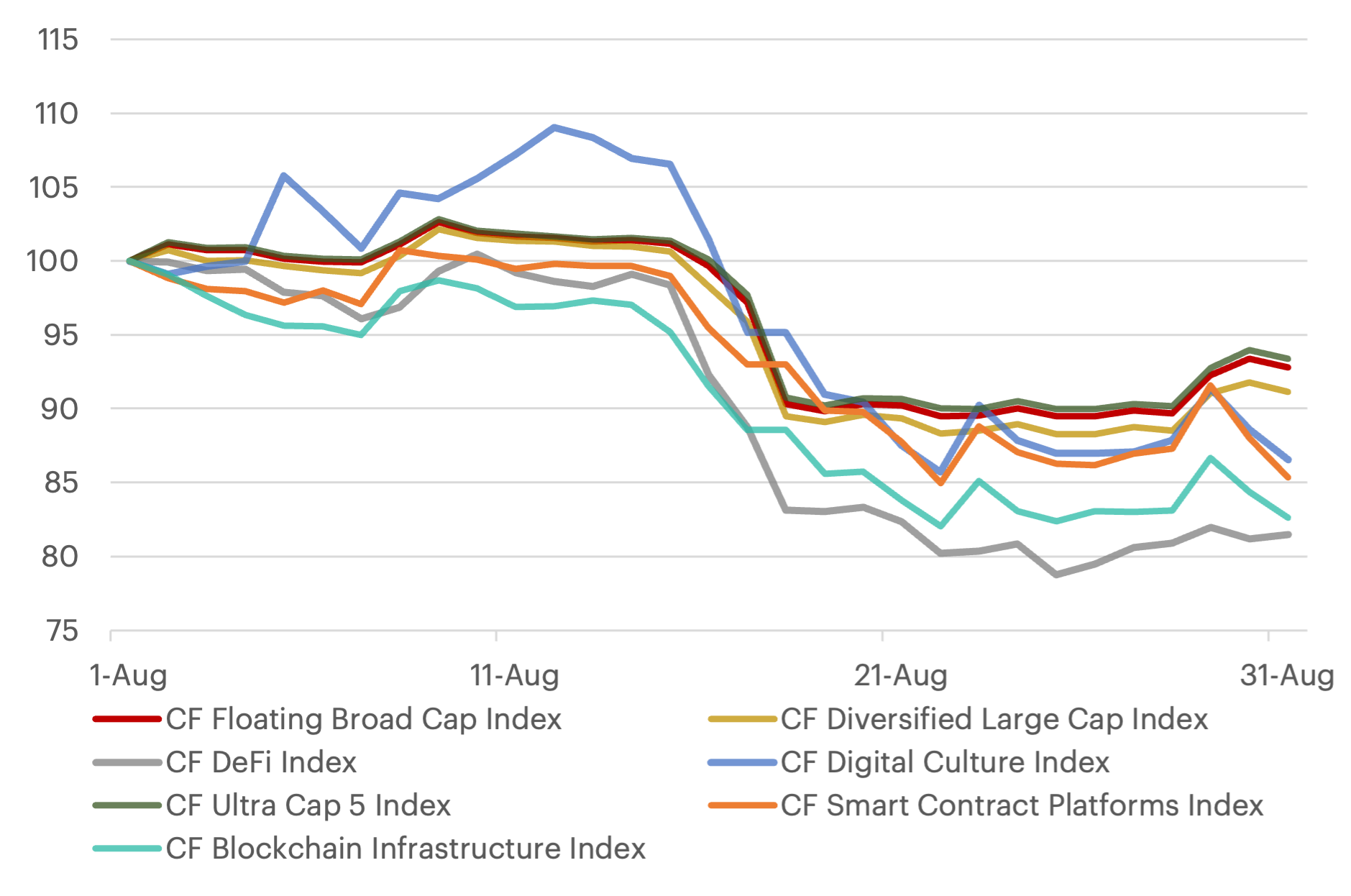 To read the complete report, kindly click on the provided link. Additionally, please do not forget to subscribe to our latest news and research for the most relevant institutional insights on digital assets.