Nov 18, 2020
Crypto index adds missing LINK
ChainLink's LINK is now fourth biggest crypto by full market cap
Review, remake
CF Benchmarks' Ultra Cap 5, the only regulated benchmark index for the cryptocurrency market, just had its first constituent review. And, as the index duly adheres to its transparent, rules-based methodology, a change in its constituent members has emerged in line with changes in the market value of top cryptocurrencies.
As for the market itself, Bitcoin's months-long parabolic surge might well be in the mainstream spotlight, but the crypto industry has been abuzz with the price rallies of all major tokens over the last several weeks.
This fervent atmosphere has of course been fuelled by the reflexive impacts of muscular advances by all 'risky' assets (for instance, stocks) of which major cryptos are increasingly a part, as the stimulative global response from central banks and governments to the pandemic shows strong signs of feeding directly into the digital asset space.
It was almost inevitable that one of the myriad multibillion dollar-capitalised cryptos outside the Ultra Cap 5 would supersede one of the current constituents, Bitcoin, Ethereum, Ripple, Litecoin and Bitcoin Cash. And that's exactly what's happened.
The Rules
It's worth noting that being a crypto possessed of a market value that places in the top 5 digital assets isn't sufficient qualification to join the only benchmark index for this asset class. Because CF Benchmarks is a Benchmark Administrator authorised by the FCA under the EU's European Benchmarks Regulation regime (and will remain so after Brexit) we have a responsibility to ensure that only markets that are sound and that can be adequately monitored can be included in the Ultra Cap 5 Index. Here's our Benchmark Statement (PDF), and a set of rules (PDF) governing the construction of the Ultra Cap 5.
The upshot of all that:
CF Benchmarks cryptocurrency benchmark indices are assured to be bona fide markets, strictly monitored and screened and tested for accuracy and manipulation resistance
Benchmark indices subsequently admitted into the Ultra Cap 5 Index are receiving a genuine accreditation of their status as Top 5 crypto assets
LINK to DeFi
Well, the cryptocurrency that has now secured that qualification is ChainLink's LINK token. It's growth is being powered by demand for bandwidth on ChainLink's smart contract protocol. In turn, that demand is partly being fuelled by the DeFi trend, which continues to emit equal amounts of heat, light and controversy, though with few meaningful signs that it's exponential growth will slow anytime soon.
Consequently, as of last week, LINK had shot up to Number Five in one of the key stages of the process that determines constituents of CF Benchmarks' Ultra Cap Index, full market capitalisation. It's important to differentiate full market cap from the final decider of the rank of an Ultra Cap 5 crypto, free-float market cap. In general, the full market cap includes the complete 'installed base' of a crypto asset, regardless of how easily coins that make up that base can be traded. Free-float market cap only includes coins that are available to trade.
The top five cryptocurrencies by full market cap and eligible for inclusion in the Ultra Cap 5 index due to having passed a number of other conditions just before midnight on 11th November are listed in the table below.
Full Market Cap - Top Five Cryptocurrencies – 23.50-23.59 UTC – 11-11-2020

Source: CF Benchmarks
LINK's full market capitalisation has evidently shot up to around $12.52bn, reflecting an eye-watering price rise of almost 400% so far in 2020 and totalling around 640% since trading began around three years ago.
Bye-bye BCH
The loser here is Bitcoin Cash which is thereby confirmed as the sixth-largest crypto by market cap. The full market cap of the asset which this week underwent its second split in two years stood slightly below $5.09bn at the end of October, when the index saw its latest rebalancing. Bitcoin Cash's long-standing consensus issues and other concerns have taken a toll, leaving it down 4% in 2020, one of the worst-performing cryptos in a year when the asset class has mostly boomed.
Final constituent weightings for the Ultra Cap 5 Index's new constitution – in line with its free-float market cap methodology – will be determined at its next rebalance on 25th November. The weight changes will come into effect two days later. Even before then however, it's already clear that Bitcoin cash will no longer have a sufficiently large percentage weighting to remain in the index.
Here's what the weights looked like as the article was about to go online.
Ultra Cap 5 Index Constituent Weights – 19.24 UTC 18-11-2020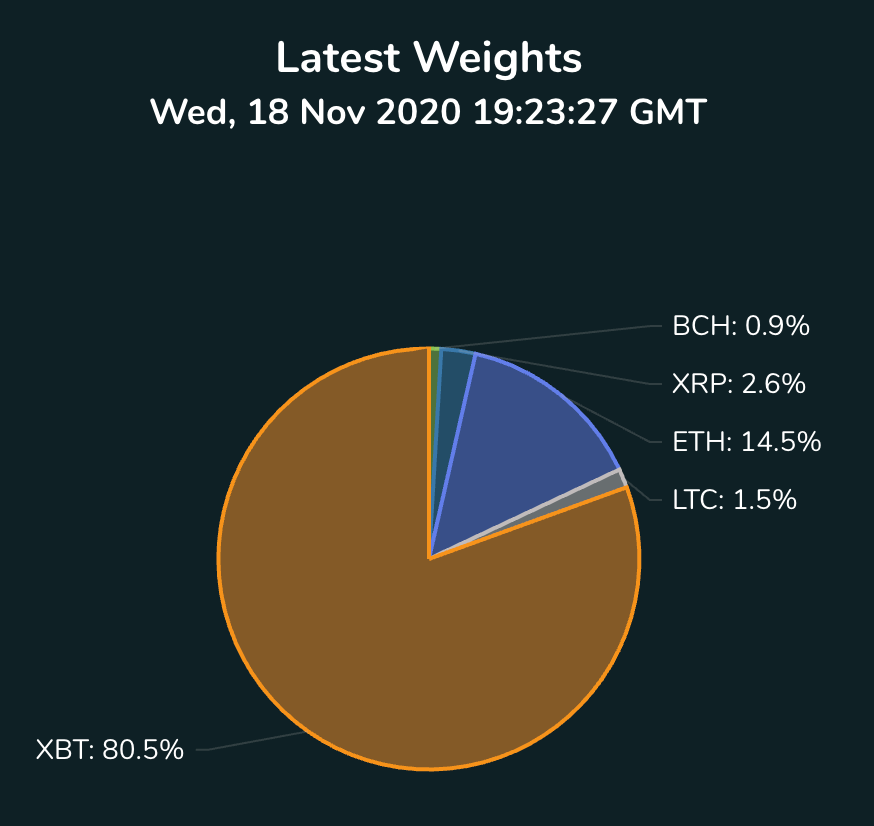 Source: CF Benchmarks
The disparity of LINK's superior value and free-float weighting compared to BCH's will soon be addressed.