Apr 17, 2021
Announcement: Evolve ETFs is set to launch the world's first Ether ETF, powered by the CME CF Ether-Dollar Reference Rate
Evolve Fund Groups, the Canadian ETF provider that pioneered one of the first ever Bitcoin ETFs, plans to launch the world's first Ether ETF on Tuesday, April 20th, 2021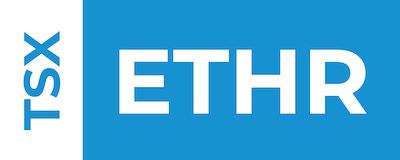 Evolve ETFs, one of Canada's fastest-growing ETF providers, with $1.7bn in assets under management, has filed the final prospectus for the world's first Ether ETF. The ETF is expected to begin trading on Tuesday, April 20th, on the Toronto Stock Exchange (TSX), under the ticker "ETHR", subject to TSX approval.
ETHR will provide investors with access to Ether, the second-largest cryptocurrency by market capitalisation, in the easily accessible and highly regulated ETF format.
ETHR's daily NAV will be calculated using the CME CF Ether-Dollar Reference Rate (ETHUSD_RR), the only regulated Ether benchmark price, devised and administered by EU-authorised benchmark administrator CF Benchmarks.
With EBIT utilising the CME CF Bitcoin Reference Rate as its reference index, both of Evolve's crypto ETFs are set to be backed by the most-trusted and best-regulated cryptocurrency prices.
"We are very excited to have launched one of the world's first bitcoin ETFs and now plan to launch the world's first Ether ETF," said Raj Lala, President and CEO at Evolve. "Similar to bitcoin, investors will now be able to trade Ether as simply as buying shares through their bank or brokerage. ETHR will provide daily liquidity, transparency and security through a regulated ETF structure."
"Evolve's Ether ETF provides resilient exposure through a tried and trusted design – identical to the EBIT Bitcoin ETF – to one of the most mature and exciting cryptocurrency projects in the space to date," said Sui Chung, CEO at CF Benchmarks Ltd. "By tracking the CME CF Ether-Dollar Reference Rate from CF Benchmarks, investors can finally add a regulated and liquid product to their portfolios that tracks the ETH spot price. Regulated financial products are vital for the continuing maturation of the cryptocurrency space."
More about Evolve ETFs' planned Ether ETF.
More about CF Benchmarks.